… in the frost free coastal Cool Subtropics
Long gone are the ignominious few, relegated to a 'cactus section' at Plant Brokerages dear colleagues … these next 5 featured plants from Troy Southwood, Master Grower at Empire Nursery, 7 Moores Road, Glenorie will bring colour and textures for year round interest.
Ask for him by calling Nursery Manager Tim Porter 0404 477 834
Empire Nursery https://empirewholesale.com.au and sign up for their Trade A/c
Plants with succulence have risen to prominence, not only for their self storing 'water-wise' capacities but also interesting habits, textures and foliage colour, to earn them year round interest and feature in the design industry.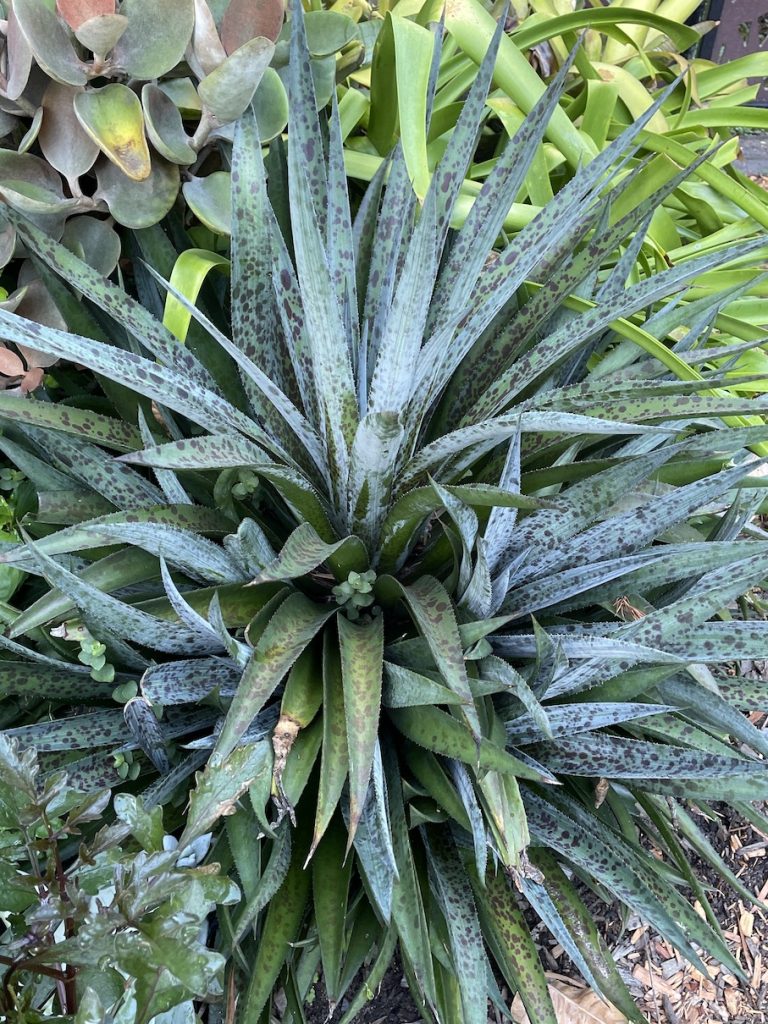 Especially conspicuous among the new intergeneric hybrid Mangaves, borrow desirable attributes from both parents. All Mangave hybrids shown 165mm $14.50 + gst
Mangave 'Pineapple Express' has a tidier form that it's Manfreda parent but has kept a faster growth rate than the Agave side. Manfreda's leopard spots have also transferred, together with a blue green rosette. In tougher conditions majority colour with recede, approaching a more neutral beige and this emphasises its freckly appeal by allowing the spots to 'read' more clearly.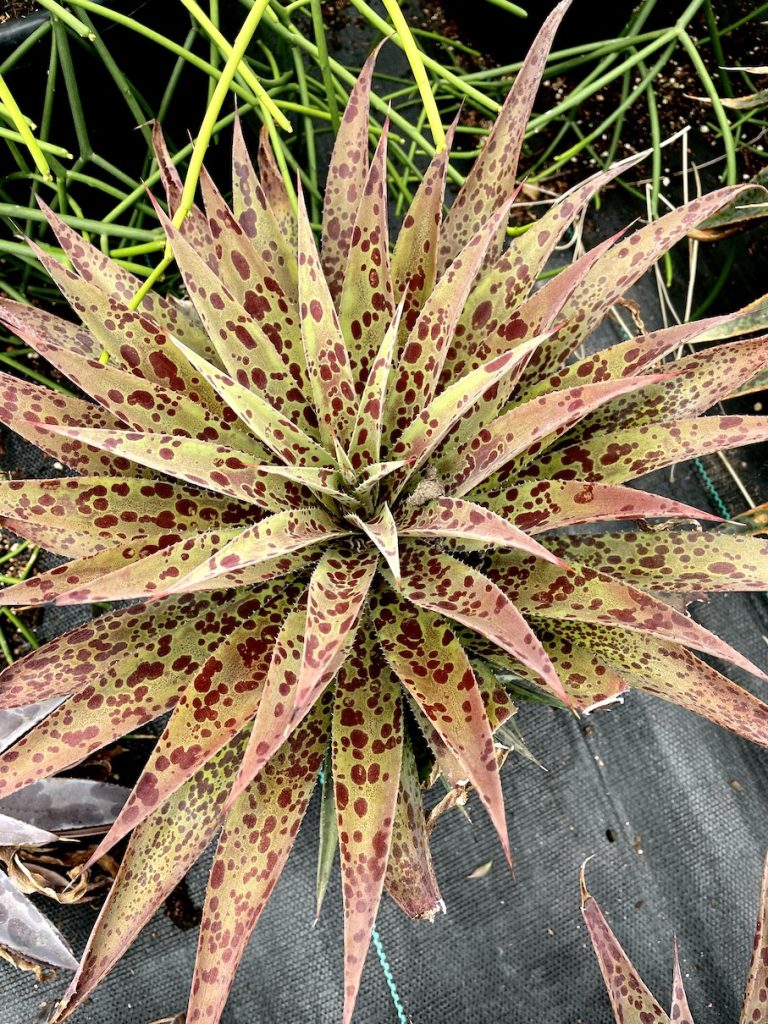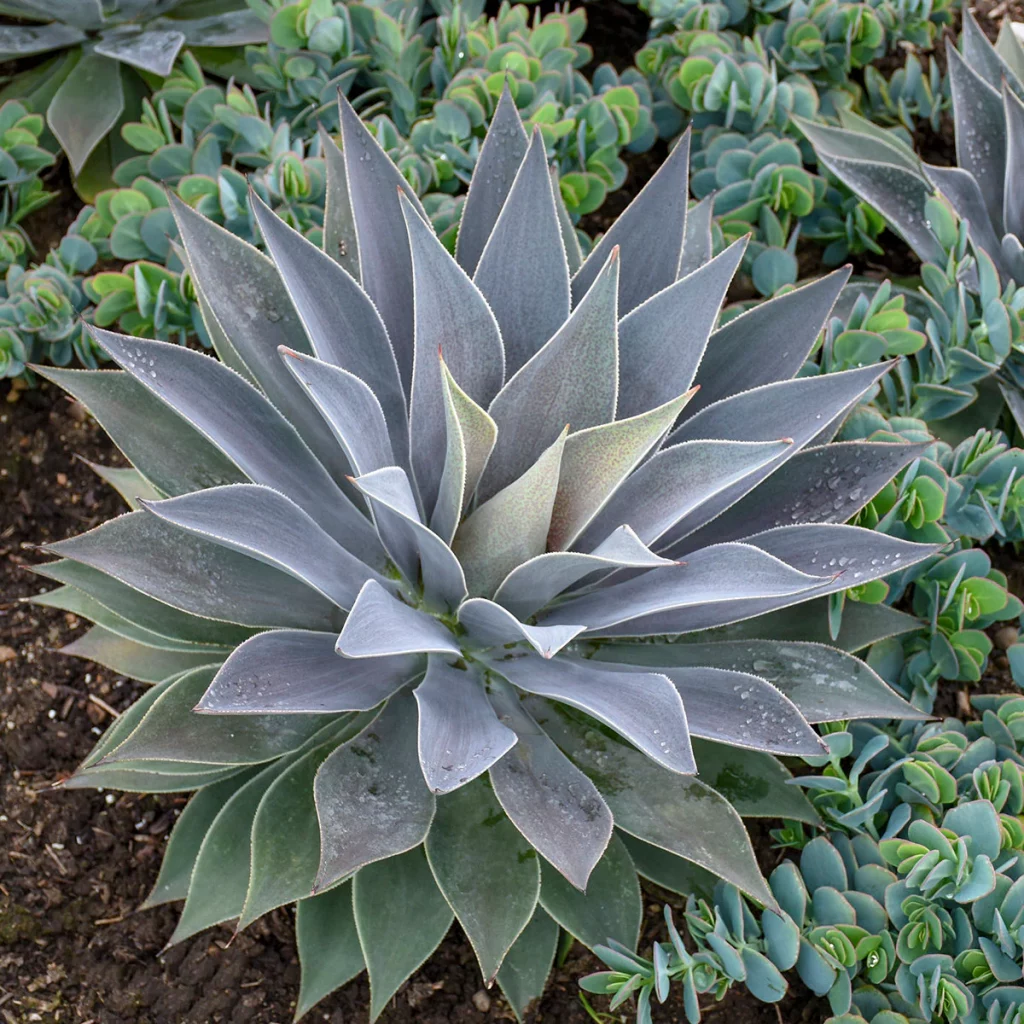 Another stand out is Mangave 'Lavender Lady', a radial of amethyst perfection and just as water-wise in high contrast with micro-fines like many of the ornamental grasses like Carex buchananii
Manfreda 'Redwing' is a more recent addition to this tribe …
… and easy textural contrasts using this scallop shaped Ajuga, with a high top rosette form like Manfreda 'Redwing' also brings year round interest. Exposure to minimum half day sun and avoiding the low light condition of a southern aspect, will ensure good colour development away from inside the drip line of large low hanging trees.
Senicio candicans 'Angel Wings'
This raised the brow of many last year during wetter conditions of La Niña. Being a silver leaf plant, my inclination was to see how these did in the garden before making selection in designs – as silver leafed plants are often martyred to prolonged wet conditions.
Surprisingly, higher than usual rainfall appears to have been less of a set back than High Summer humidity. Providing northerly growing conditions are ensured .. and save the worst prevailing wind, 'Angel Wings' faired rather well despite the rain. Suggestion as a sunny container plant for patio star performances or outside the front door approach for sense of arrival. Available in July.
And finally another portulaca variegate, so useful elevated into long troughs on first floor terraces facing the street as 'foam-over'. Portulacca Retro Variegata is also a self striker across steep falls, where grip of a loose surface is required against erosion. Views through windows from inside, to sudden steep grades close to the house with at least half day sun as a high frequency 'look to' and 'walk-by'.
Stars of the Bright Shade Garden
Planting space within the drip line of trees with elevated, scant canopies make bright shade. Surface soil in places like these is often obstructed by the tree's feeder roots and unless rain is prolonged, is also DRY.
All 5 plants following are the work of Bright Shade Master Keith Tollis, whose impressive range of ever expanding, exciting non-general line planting I could only hope to show a small part of …
4greatgardens@westnet.com.au or call him 0409 302 304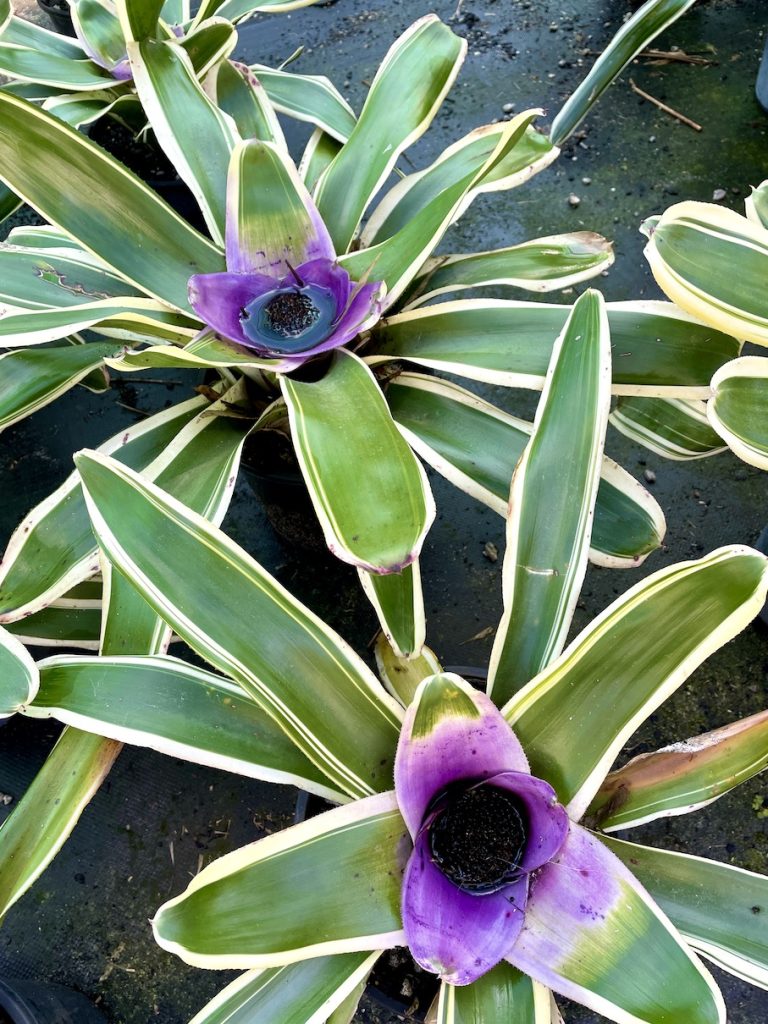 Bright shade loving neorgelia can suffer a bad wrap for turning an homogeneous green and stretch badly in gloomy corners of the Cool Subtrops Garden.
However, many like N. carolinae are good garden bromeliads, living easily as they do, above the impenetrable tree root ridden surface quite happily. Add to this variegate forms and a welcome 'lift' against surrounding mid green garden is easy. Water storing and changes to bright cochineal in the High Summer garden.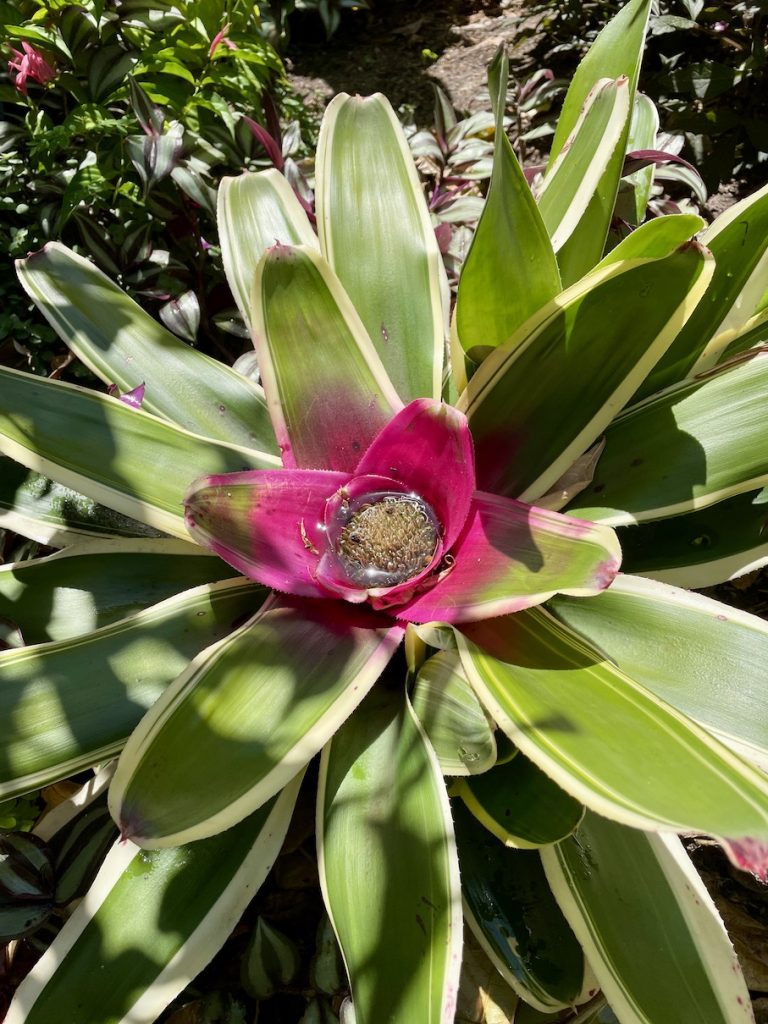 Aroids from the Araceae continue to pull focus coming into '23 market places, chief among them an undying interest in Anthurium.
One of the toughest and most durable from exposed headlands to quite heavy shade and within full overhang in the built environment is Anthurium coriaceum has a wide frost free range.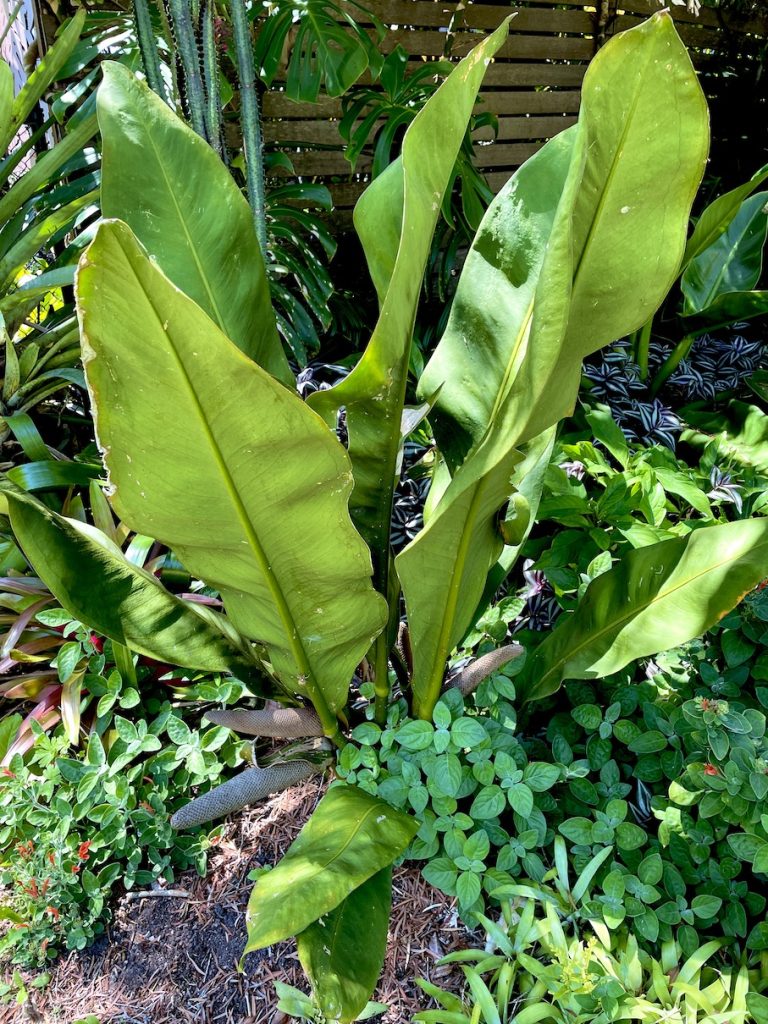 The plant shown above grows in an otherwise harsh western aspect here at 'Sea-Changer' in Forresters Beach Central Coast, that in winter months remains fairly sunless, followed in high summer by direct afternoon heat. No matter and receives constant neglect from myself … regardless and still manages an effortlessly lush appearance. Keith Tollis has beautiful semi advanced and super advanced plants that have been well hardened in 200mm @ $35 & 300mm @ $65 + gst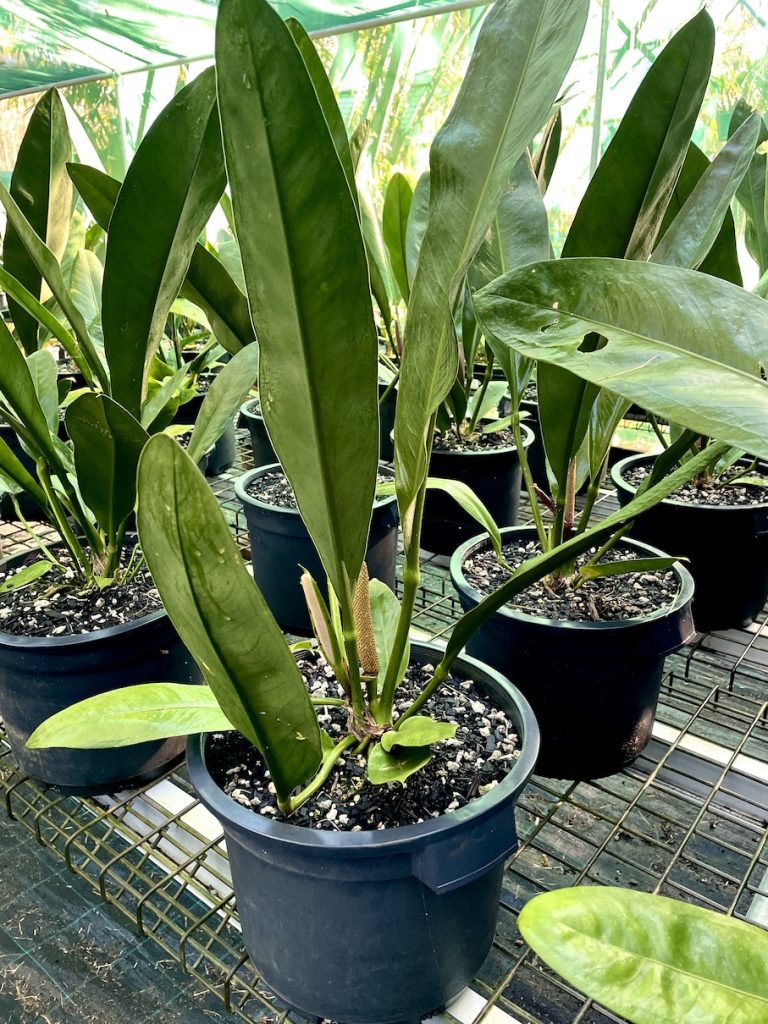 Paint Brush Lily – Scadoxus puniceus
There are few more arresting sights in the late August cool subtrops garden than Paint Brush lilies, thrusting their proud torches skyward. Keith has selected for a particularly robust taller form around 1m, with superior staminate brushes into early September.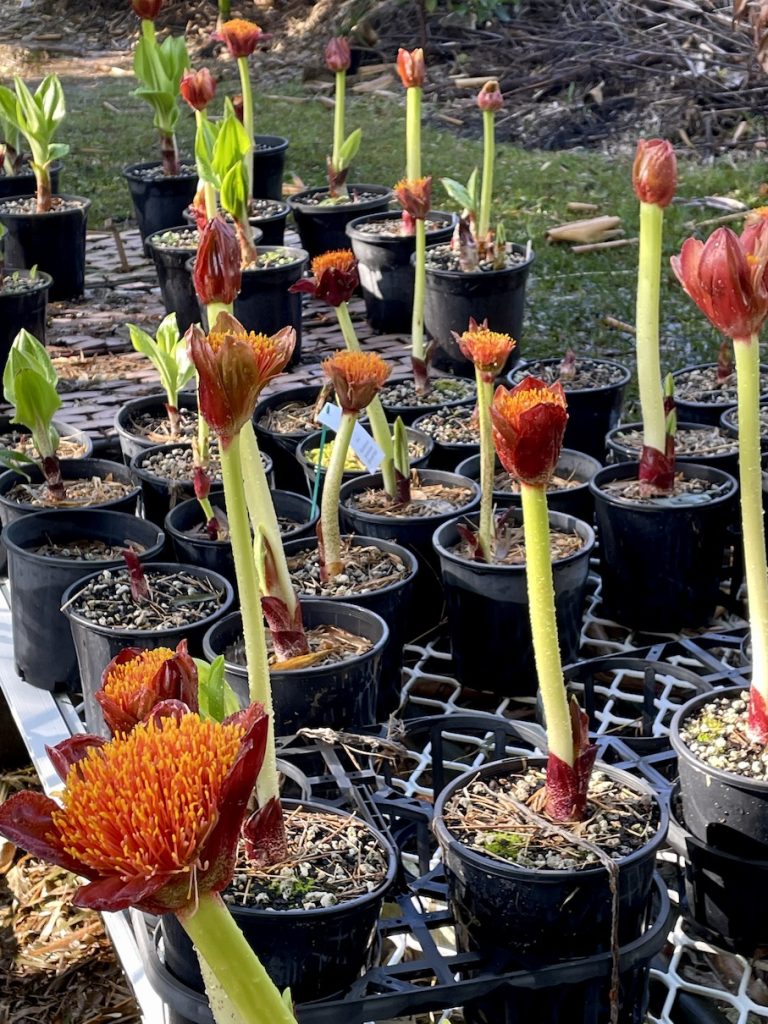 Keith Tollis will have all these beauties and many other non-general line stars of the dry shade Cool Subtropics Garden, at Collectors Plant Fair Clarendon 15- 16th April '23 near Richmond just one short month or so away. Look for the stall bannered Andy's Rare Plants that will also have standout offerings from Andy Harvey and Colin Hunt.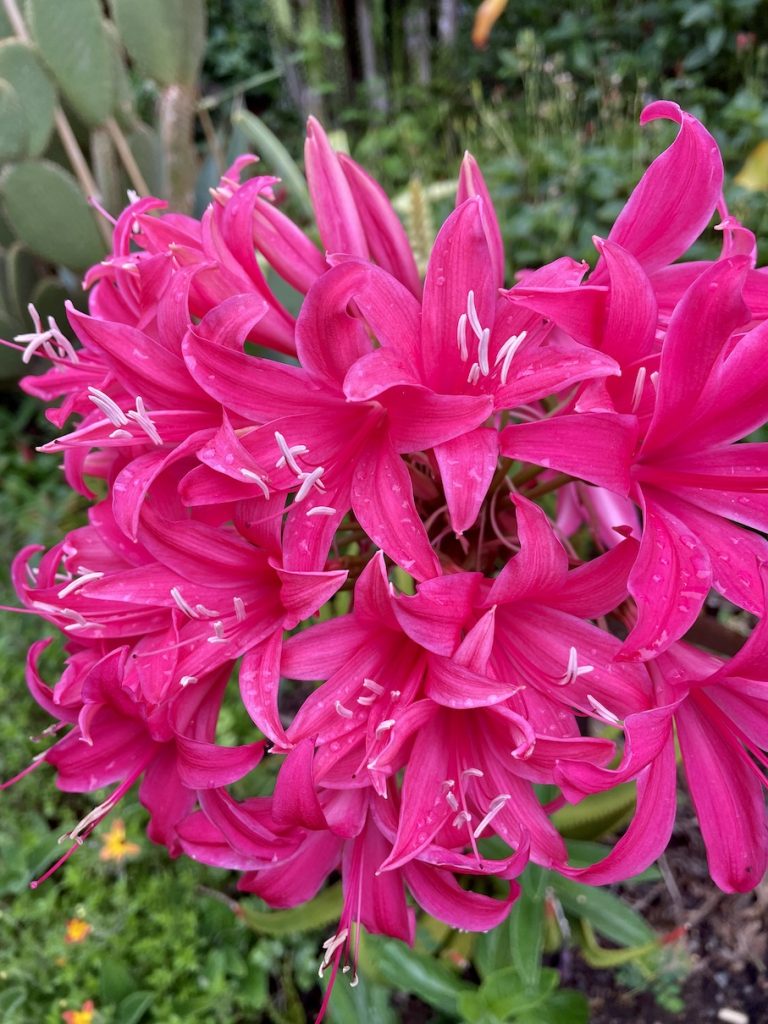 Departing from the shade garden ..
..for hot sun and not more than half day shade, is an intergeneric hybrid between Amaryllis and Brunsvigia named for Keith (Boz) Tollis, Any Harvie and Colin Hunt … take a look beneath and watch out for these stall side @ CPF '23 !!
From time to time I've received good referral from colleagues who are in the Media, Growers or other parts of the industry, to clients looking for Garden Design and or Project management.
If you want to refer with confidence so your referral will be a happy one, please refer your inquirer client to myself –
Peter Nixon – Paradisus Garden Design 0418 161513 info@peternixon.com.au and www.peternixon.com.au – Garden Lovers Blog www.paradisusgl.peternixon.com.au
Facebook – Paradisus Garden Design and Insta handle – paradisus_sea_changer
Better Homes and Gardens TV will feature a special garden in Willoughby made from plants like those shown in this send. Channel 7, Friday 7.30pm 19th May and on 7Plus !